分享一个小程序。  A small program to share with you.
程序介绍 

( Program Introduction):
    软件根据构件或结构的力-位移骨架曲线计算的等效屈服变形、极限变形和延性系数。软件提供了3种常用的等效屈服位移计算方法:几何作图法、等能量法、R.Park法。
    方便研究而编写的小工具,特别适合于做实验研究的同学。
    This program is used for evaluation of yield deformation , ultimate deformation and ductility factor of structures and structural assemblages from laboratory testing , based on the force-displacement backbone curve. Three commonly used methods for estimating the yield deformation are provided by the program. These includes : Geometric Graphic Method , Equivalent Elasto-Plastic Energy Method, R.Park Method.
   It's a simple-to-use program.
程序界面 

( Program Interface 

):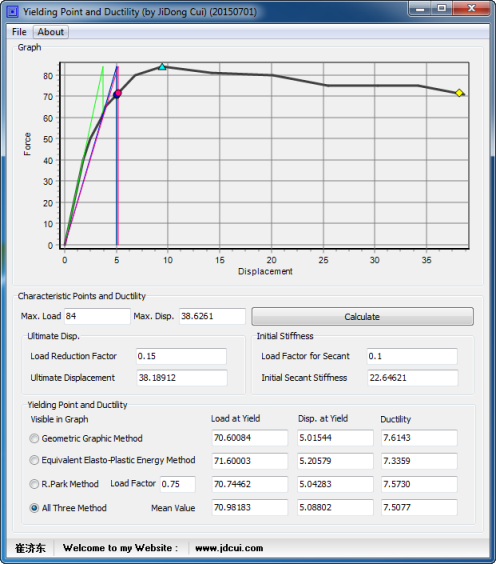 软件提供三种常用的等效屈服位移计算方法:
  Three commonly used methods for estimating the yield deformation are provided by the Program: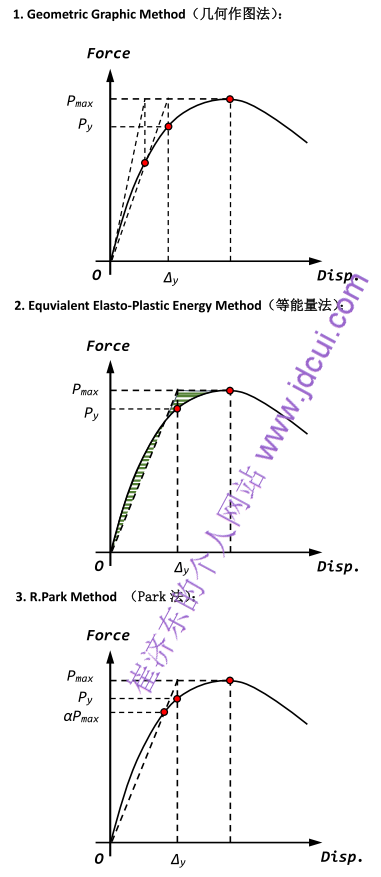 程序下载 

( Program Download ):
  Download : 等效屈服点和延性计算
(  如果您需要这个软件,请在这给网站捐助:http://www.jdcui.com/?page_id=4813,捐助不少于50RMB,捐助后在评论区留下您的评论,软件将通过邮件给您发送,敬请尊重劳动成果 !!!。)
---
  ( 软件是免费的。如果你发现软件有bug或者软件使用有问题,请留言给我,或者通过邮箱联系我。邮箱:jidong_cui@163.com . 如果你喜欢这篇博文,请在上面给我 点个赞 吧!


  :-)
  ( This app is free . If  you have found any bug in the program or have any problem when using the program, please don't hesitate to contact me directly. Email : jidong_cui@163.com. If you like this posts, please give me a "thumbs up" rating on the above button! )
微信公众号 (

Wechat Subscription

)
欢迎关注 "结构之旅" 微信公众号