坚持实干、坚持实践、坚持积累、坚持思考,坚持创新。
---
外国网友让我对 IRSA 软件做个单自由度地震时程分析分析的使用说和算例。 IRSA ( IRSA:Inelastic SDOF Earthquake Analysis and Inelastic Response Spectra)软件即 单自由度非线性地震分析及反应谱计算工具,关于这个软件的介绍可以访问这个链接:[地震工程][科研][软件][Tool] IRSA: Inelastic Response Spectra Analysis Program (弹塑性反应谱及单自由度非线性地震分析工具)
This step by step inelastic SDOF earthquake time history analysis tutorial is for Sebaq Mohammed. 🙂  🙂 
[Step 1]: Import Earthquake Acceleration Ground Motion Records
Click the "Import Ground Motion" button to import your earthquake acceleration ground motion records. You can import multiple records one time. And just remember that, the ground motion acceleartion record is in measured in  'g'.  After the ground motion acceleration is imported, you can check the acceleration, velocity and displacement of the ground motion in the tab "Time Series";  If you discover baseline error in the ground motion, you can select the "type" of baseline correction and click the "Apply Baseline Correction" button  to do baseline correction to the ground motion. When a ground motion is baseline corrected, the after time history analysis and response spectra analysis will be based on baseline corrected ground motion record, not the original record. The only one thing you need to know is that, baseline correction will affect response spectra analysis and time history analysis results.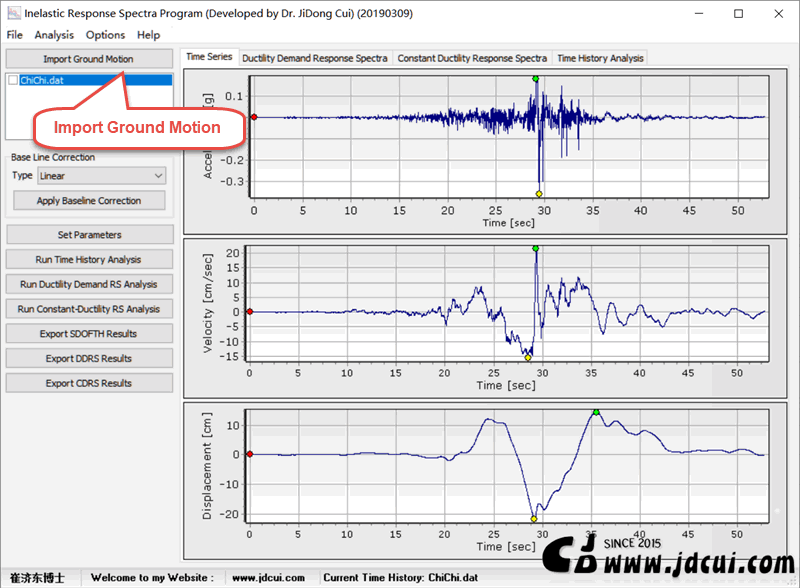 [Step 2]: Set Parameters for SDOF Time History Analysis
This tutorial is mainly for SDOF time history analysis, so only parameters related to SDOF analysis is discussed. The other parameters are mainly related to Inelastic Response Spectra Analysis, and will be discussed next time.
Click "Set Parameters" Button, and show the below form, only the parameters in red frame are related to SDOF analysis.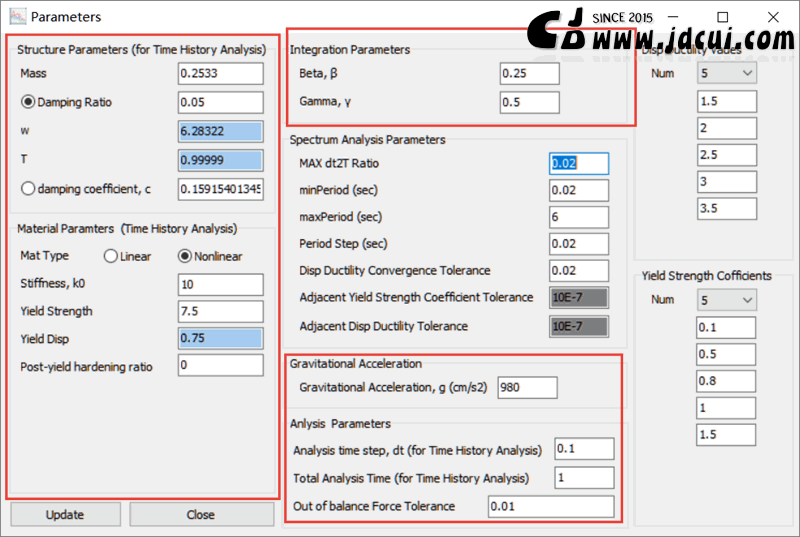 All the parameters have the following meanings:
[
Mass
]: the structural mass [
Damping Ratio
]: the damping ratio is used to specify the damping information for the single degree freedom system. [
w
]:
w=sqrt( k0 / Mass)
, circular frequency of free vibration of the structure (radians/sec). The higher the stiffness relative to mass, the higher the
frequency. The higher the mass with respect to stiffness, the lower the frequency. In this program,  w is calculated by the prgrom automatically  usig
k0
and
Mass.
[
T
]:
T = 2*π/w
 , period of vibration (sec/cycle).
To be continued…
微信公众号 ( 

Wechat Subscription

)
欢迎关注 "结构之旅" 微信公众号